Commoning Curatorial and Artistic Education #9 – Ariane Sutthavong & Lara van Meeteren (Inappropriate BOOK CLUB, Bangkok 2021)
Lecture 03.07.2022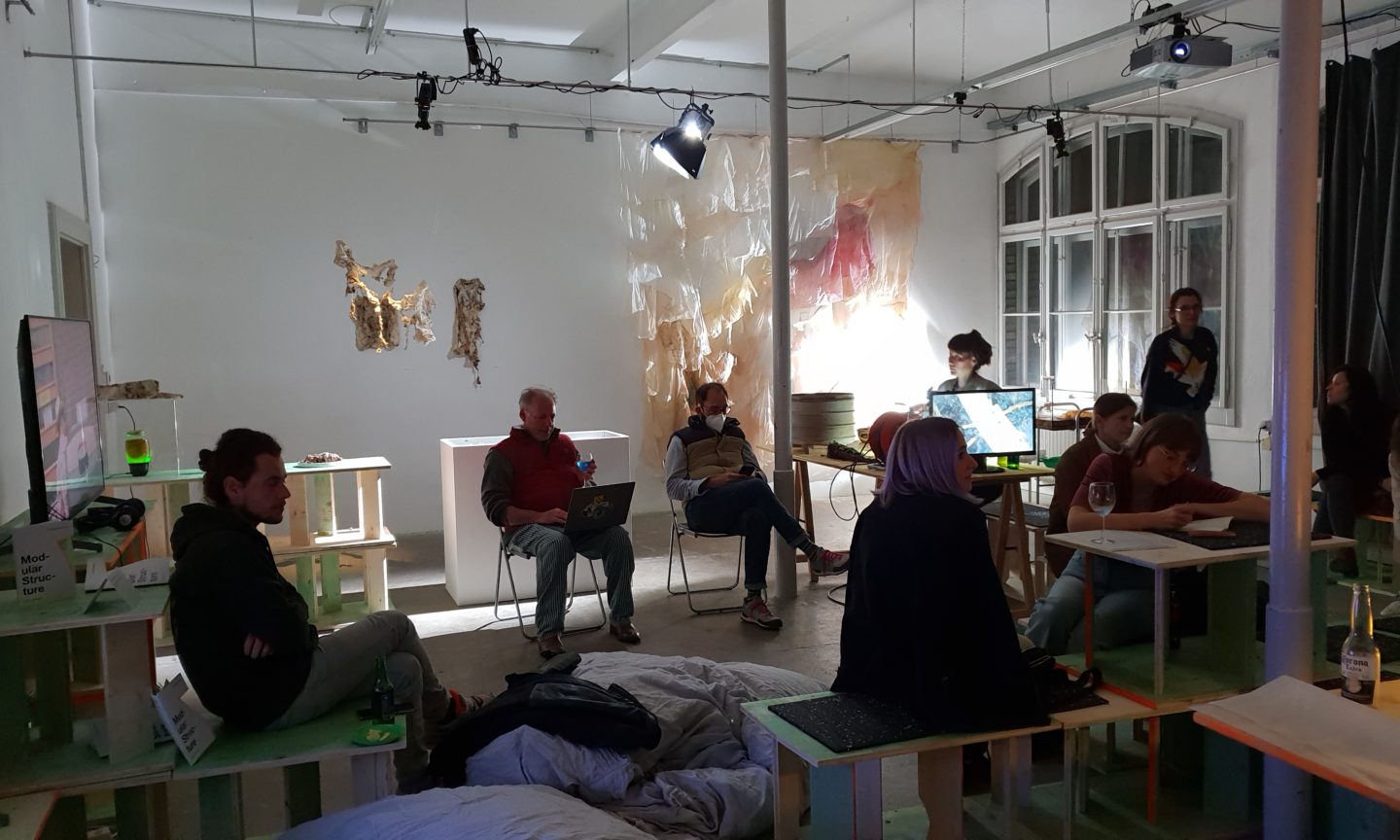 Not (quite) your Utopia: On the ideological flexibility of the common(s)
Hier klicken für die deutsche Version.
To register for this talk online, please follow this link.
Ariane Sutthavong & Lara van Meeteren (inappropriate BOOK CLUB) in discussion with Lee Anantawat.
Ariane Sutthavong, Lara van Meeteren and Lee Anantawat critically examine the concept of the common, speaking from Thailand's authoritarian, late capitalist context. Ariane and Lara's contributions are informed by their experience with organizing the inappropriate BOOK CLUB in Bangkok in 2021 (a commoning initiative in the setting of the Bangkok Biennial dis-cussing art and politics), as well as by research into the history of common (educational) organizing in Thailand. At the core of these engagements is a critical approach that sees the common as a third domain of social organising next to the state and the market. However, experience suggests that this third domain of the common is not inherently 'good' or 'inclusive'. Instead, we argue that the common is 'ideologically flexible', as it can support various positions. We make these arguments through a discussion of both counter-hegemonic common (art) initiatives, as well as anti-democratic initiatives that have sup-ported the existing hegemony in Thailand over the past decades. In conversation with Lee, art educator and common organiser behind the Bangkok Biennial and the We Take Care of Ourselves group amongst other things, we explore the consequences of these issues for Thailand. In the process, we will also reflect on the increasingly problematic role of art schools and institutions.

Ariane Sutthavong is involved in curation, writing and translation projects at the intersection of art and politics in Bangkok and London.
Lara van Meeteren lives and works in Hong Kong and Bangkok. She conducts research, writes and co-organises projects. Aiming to make the political nature of art and its events and institutions visible, in her work Lara explores the idea of contemporary art as counter-hegemonic practice.
Together with Bart Wissink and Sina Wittayawiroj, Ariane and Lara have founded the inappropriate BOOK CLUB, an ongoing common-based initiative focusing on art and politics.
Lee Anantawat lives and works in Bangkok. She co-founded independent art space Speedy Grandma in 2012 to support local and international artists, and set an alternative for the Thai contemporary art scene. In 2018, with Jeff Gompertz and Liam Morgan, she founded the Bangkok Biennial, an art biennial challenging the 'authority of access' to representation in art and curatorial practices. Lee works as a full-time instructor in the communication design programme at the School of Architecture and Design, King Mongkut University of Technology Thonburi. She focuses on finding ways out of capitalism through teaching.

This program is part of a lecture series by the Shared Campus platform, Zurich University of the Arts, as part of one of the Summer Schools of CAMP notes on education:

The two-week Summer School wants to impact commoning strategies in fine arts, and curatorial education by inviting students, staff and external guests to co-teach and teach each other by sharing and discussing their situated experiences of practice and theory in an open and trustworthy way. Students are part of the Shared Campus platform, a network of eight partner universities from Switzerland, Great Britian, Taiwan, Hong Kong and Singapore.
DE
Nicht (ganz) Deine Utopie: Über die ideologische Flexibilität des/der Gemeinsamen
Ariane Sutthavong & Lara van Meeteren (inappropriate BOOK CLUB) im Gespräch mit Lee Anantawat
Ariane Sutthavong, Lara van Meeteren und Lee Anantawat setzen sich kritisch mit dem Konzept des Gemeinsamen auseinander, wobei sie von Thailands autoritärem, spätkapitalistischem Kontext ausgehen. Die Beiträge von Ariane und Lara beruhen auf ihren Erfahrungen mit der Organisation des inappropriate BOOK CLUB in Bangkok im Jahr 2021 (einer gemeinsamen Initiative im Rahmen der Bangkok Biennale, bei der Kunst und Politik diskutiert werden) sowie auf Recherchen zur Geschichte der gemeinsamen (Bildungs-)Organisation in Thailand. Im Mittelpunkt dieses Engagements steht ein kritischer Ansatz, der das Gemeinsame als dritten Bereich der sozialen Organisation neben dem Staat und dem Markt betrachtet. Die Erfahrung zeigt jedoch, dass dieser dritte Bereich des Gemeinsamen nicht per se "gut" oder "inklusiv" ist. Stattdessen argumentieren wir, dass das Gemeinsame "ideologisch flexibel" ist, da es verschiedene Positionen unterstützen kann. Wir führen diese Argumente anhand einer Diskussion sowohl gegenhegemonialer gemeinsamer (Kunst-)Initiativen als auch antidemokratischer Initiativen an, die in den letzten Jahrzehnten die bestehende Hegemonie in Thailand unterstützt haben. Im Gespräch mit Lee, Kunstpädagogin und Organisatorin der Bangkok Biennale und der Gruppe We Take Care of Ourselves, untersuchen wir die Konsequenzen dieser Themen für Thailand. Dabei werden wir auch über die zunehmend problematische Rolle von Kunstschulen und -institutionen nachdenken.
Ariane Sutthavong arbeitet als Kuratorin, Autorin und Übersetzerin an Projekten an der Schnittstelle von Kunst und Politik in Bangkok und London.
Lara van Meeteren lebt und arbeitet in Hongkong und Bangkok. Sie forscht, schreibt und organisiert Projekte mit. Mit dem Ziel, die politische Natur der Kunst und ihrer Veranstaltungen und Institutionen sichtbar zu machen, erforscht Lara in ihrer Arbeit die Idee der zeitgenössischen Kunst als gegenhegemoniale Praxis. Zusammen mit Bart Wissink und Sina Wittayawiroj haben Ariane und Lara den unangemessenen BOOK CLUB gegründet, eine fortlaufende gemeinsame Initiative, die sich mit Kunst und Politik beschäftigt.Lee Anantawat lebt und arbeitet in Bangkok. Sie hat 2012 den unabhängigen Kunstraum Speedy Grandma mitbegründet, um lokale und internationale Künstler zu unterstützen und eine Alternative für die zeitgenössische Kunstszene in Thailand zu schaffen. Im Jahr 2018 gründete sie zusammen mit Jeff Gompertz und Liam Morgan die Bangkok Biennial, eine Kunstbiennale, die die "Autorität des Zugangs" zur Repräsentation in der Kunst und kuratorische Praktiken in Frage stellt. Lee arbeitet als Vollzeit-Dozentin im Programm für Kommunikationsdesign an der School of Architecture and Design, King Mongkut University of Technology Thonburi. Sie konzentriert sich darauf, durch die Lehre Wege aus dem Kapitalismus zu finden.
Bitte um Anmeldung für die Veranstaltung über diesen Link.
Dieses Programm ist Teil der Vortragsreihe der Shared Campus Plattform, Zürcher Hochschule der Künste, im Rahmen einer der Summer Schools von CAMP notes on education. Die zweiwöchige Summer School will Einfluss nehmen auf Kunst- und kuratorische Ausbildung mit Strategien der Gemeinschaft. Wir laden Studierende, Mitarbeiter*innen und externe Gäste ein, sich gegenseitig zu unterrichten und zu lehren, indem wir situierte Erfahrungen in Praxis und Theorie offen und vertrauensvoll austauschen und diskutieren. Die Studierenden sind Teil der Shared Campus Plattform, einem Netzwerk von acht Partneruniversitäten aus der Schweiz, Großbritannien, Taiwan, Hongkong und Singapur.
Credit Titelbild: Compost – The Open Bin (Composting Knowledge), Exhibition project at the OnCurating Project space, Panel discussion, Humus Sapiens with artists Malte Larsen, Maya Minder, Linda Mary Montano, Andreas Siagian, Adam Zaretsky, March 2022, Zurich.
https://oncurating-space.org/compost-humus-sapiens/