Commoning Curatorial and Artistic Education #5 – Gilly Karjevsky (Floating e.V.)
Lecture 27.06.2022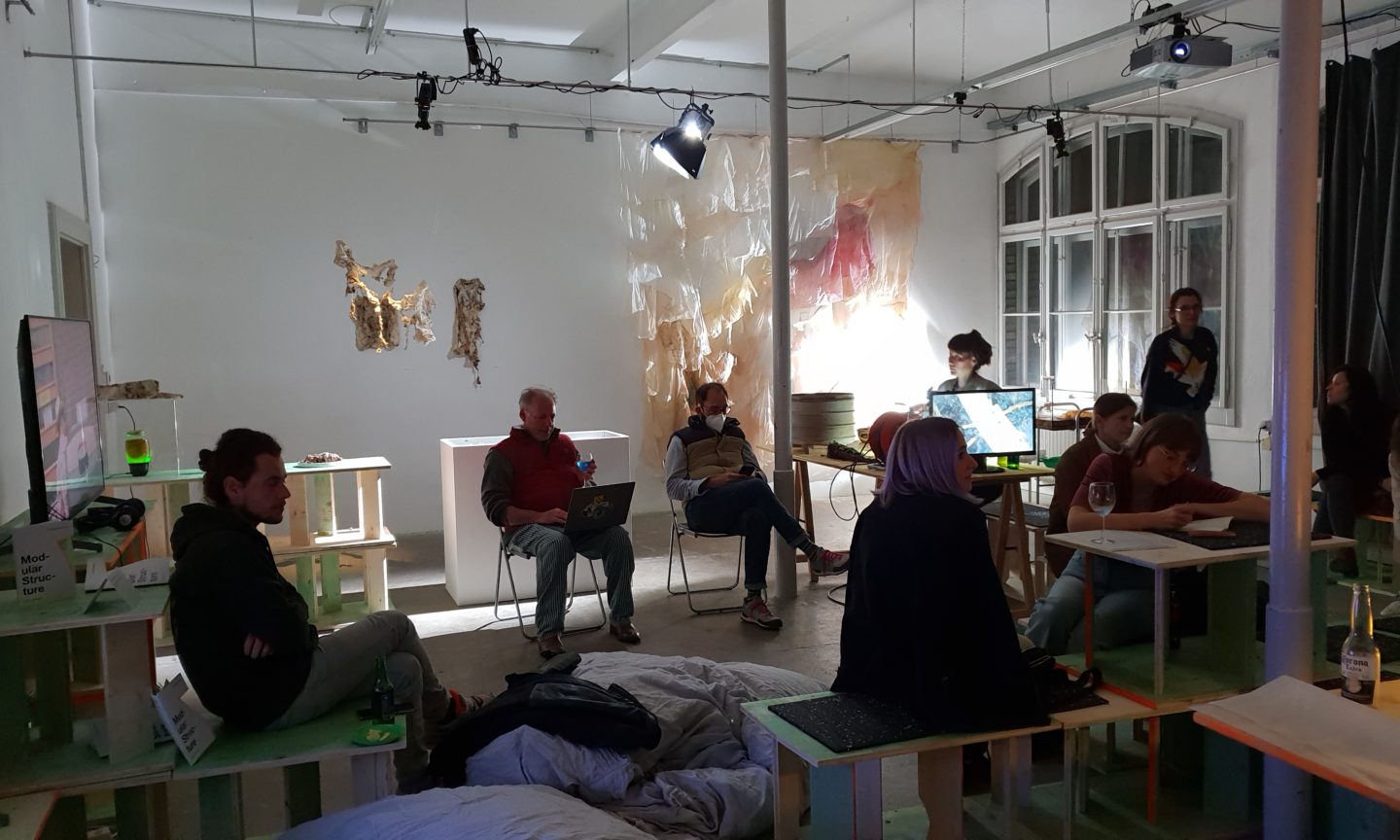 Hier klicken für die deutsche Version.
To register for this talk online, please follow this link.
Gilly Karjevsky will talk about the Floating e.V., a self-organised space and group– situated in Berlin Tempelhof, Germany –, where practitioners from a wide range of backgrounds meet to collaborate, co-create and imaginatively work towards futures by what they call Fields of Knowledge and Action: from maintaining and developing the site to gardening, cultivating collaborations and taking care of neighborhood connections.
Gilly Karjevsky is an independent curator who works at the intersection of the ethics of care and the curatorial, looking at languages of practice in relation to site and situation. She is a founding member of Soft Agency and developed the collaborative lexicon process Silent Conversation. Karjevsky lectures internationally and her writings have been published in numerous publications. She is the editor of a forthcoming publication about 72 Hour Urban Action, whose co-director she is.

This program is part of a lecture series by the Shared Campus platform, Zurich University of the Arts, as part of one of the Summer Schools of CAMP notes on education.
The two-week Summer School wants to impact commoning strategies in fine arts, and curatorial education by inviting students, staff and external guests to co-teach and teach each other by sharing and discussing their situated experiences of practice and theory in an open and trustworthy way. Students are part of the Shared Campus platform, a network of eight partner universities from Switzerland, Great Britian, Taiwan, Hong Kong and Singapore.
DE
Floating
Gilly Karjevsky wird über den Floating e.V. sprechen, einen selbstorganisierten Raum und eine Gruppe in Berlin-Tempelhof, Deutschland, in dem sich Praktiker*innen aus den unterschiedlichsten Bereichen treffen, um zusammenzuarbeiten, gemeinsam zu gestalten und imaginativ auf eine Zukunft hinzuarbeiten, die sie als Wissens- und Aktionsfelder bezeichnen: von der Instandhaltung und Entwicklung des Geländes bis hin zur Gartenarbeit, der Pflege von Kooperationen und der Pflege von Nachbarschaftsbeziehungen.
Gilly Karjevsky ist eine unabhängige Kuratorin, die an der Schnittstelle zwischen der Ethik der Pflege und dem Kuratorischen arbeitet und sich mit den Sprachen der Praxis in Bezug auf den Ort und die Situation beschäftigt. Sie ist Gründungsmitglied von Soft Agency und hat den kollaborativen Lexikonprozess Silent Conversation entwickelt. Karjevsky hält international Vorträge und ihre Schriften wurden in zahlreichen Publikationen veröffentlicht. Sie ist die Herausgeberin einer demnächst erscheinenden Publikation über 72 Hour Urban Action, deren Co-Direktorin sie ist.

Bitte um Anmeldung für die Veranstaltung über diesen Link.
Dieses Programm ist Teil der Vortragsreihe der Shared Campus Plattform, Zürcher Hochschule der Künste, im Rahmen einer der Summer Schools von CAMP notes on education. Die zweiwöchige Summer School will Einfluss nehmen auf Kunst- und kuratorische Ausbildung mit Strategien der Gemeinschaft. Wir laden Studierende, Mitarbeiter*innen und externe Gäste ein, sich gegenseitig zu unterrichten und zu lehren, indem wir situierte Erfahrungen in Praxis und Theorie offen und vertrauensvoll austauschen und diskutieren. Die Studierenden sind Teil der Shared Campus Plattform, einem Netzwerk von acht Partneruniversitäten aus der Schweiz, Großbritannien, Taiwan, Hongkong und Singapur.
Credit Titelbild: Compost – The Open Bin (Composting Knowledge), Exhibition project at the OnCurating Project space, Panel discussion, Humus Sapiens with artists Malte Larsen, Maya Minder, Linda Mary Montano, Andreas Siagian, Adam Zaretsky, March 2022, Zurich.
https://oncurating-space.org/compost-humus-sapiens/